PTO meeting Tuesday, June 7th 5:30PM at Mazzio's.



PTO Meeting Tuesday, June 7th at Mazzio's (in the back room)from 5:30 to 6:30.

Hello Grand View, if you have not completed the enrollment process for your child, they may not have a space available when school starts August 4, or their schedule & teacher assignments may not be available during back-to-school night. Call the Enrollment Office at 918-456-5131 extension 6 to schedule a visit or go to
https://youtu.be/qdod2IFMnUQ
to watch a video about enrollment options.

Dolly Parton's Imagination Library mails books to children every month, from birth through their fifth birthday, at no cost to families. Dolly Parton's Imagination Library | Oklahoma State Department of Education
https://sde.ok.gov/imagination-library

Hello Grand View Chargers. Three important things regarding enrollment - 1) On-campus enrollment is set for May 17 from 12:30 - 6:00 and May 18 from 9:00 - 1:00. 2)If you can't make those times you may set up an appointment by calling the school at 918-456-5131 or enroll online by going to
https://www.grandviewchargers.org/
and clicking on Parent/Guarding Portal. 3) And have you ever wondered why early enrollment is so important? Do you know why schools ask for so much information? Please go to
https://youtu.be/mHa906yVrGA
and see the slide-show that explains how very important your child's information is to their academic progress, their safety and for school funding.

Grand View School in-person enrollment will be held May 17 from 12:30PM to 6:00PM and again on May 18th from 9:00AM to 1:00 PM. Please bring required documentation. For more information visit grandviewchargers.org or the Grand View app and visit the enrollment section.

Last week reminders: 1. Tuesday:8th grade promotion at 7:00 p.m. in the gym. 2. Wednesday:kindergarten promotion at 10:00 a.m. in the gym. 3. Thursday:1st-4th awards assembly at 8:30 a.m. 4. Thursday:5th-6th awards assembly at 10:00 a.m. 5. Last day of school is Thursday. Have a great summer.

Your child will soon be bringing books home for summer reading. Like other books we have provided, this five book set is a gift from the school. Funding for these books were provided by a grant for Grand View called Innovative Approaches to Literacy.

Grand View School requires that all students attending summer school have a completed enrollment packet on file for the upcoming school year. If you have not yet enrolled your child for the 2022-23 school year, please contact Ms. Salazar in the Enrollment Office 918-456-5131 option 6.

Good afternoon parents. A field trip bus was late returning today. The buses will drop your child off 10-20 minutes later than normal. You do not need to call the school unless you need to make other transportation arrangements. Again, the buses are running 10-20 minutes late. Thank you.

Cherokee Nation Career Exploration Paid Summer Program Information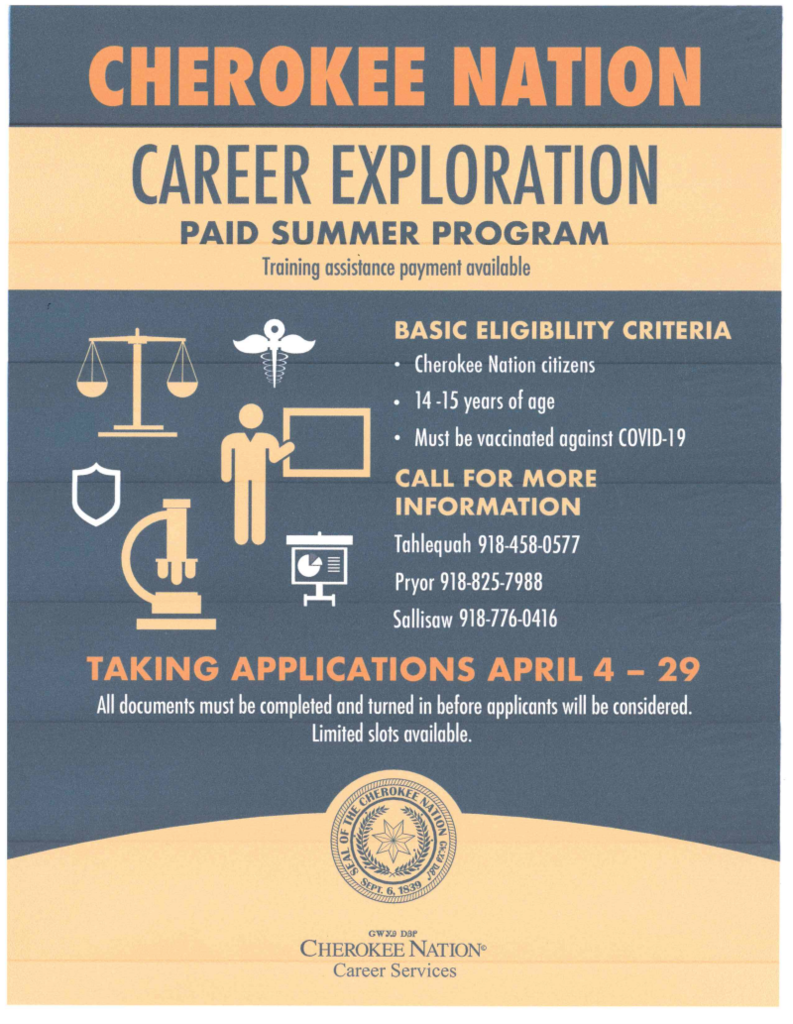 Reminders: 1. Testing resumes on Monday. 2. Cheer clinic and tryouts start Tuesday. 3. 7th-8th awards assembly is Thursday beginning at 12:40. 4. Friday, April 29th is the last day of after school.

Last week's storm caused technology outages across campus. Since all state testing is online, our primary concern was to reestablish Wi-Fi connectivity. Testing classrooms are now operational, but not all phones are functioning. Since computers are working we will not attempt any phone repairs until the state-required testing is complete. Until phones are repaired we ask that you please call the main office and we will relay messages. Thank you for your patience.

Our students are prepared for state testing and ready to show what they know! Testing begins tomorrow, April. 20. Please make sure your children arrive by 8:00 each morning so that they test with their classmates in their scheduled sessions. Late arrivals will have to make up tests. Testing ends on Tuesday, Apr. 26 if all students have been tested.

PTO Skate Night Tuesday, April 19th 5:30-7:30 Cost is $5.00

Testing begins on Wednesday and begins early each morning. Make sure you child arrives on time. If student(s) arrives they will have to take two test in the afternoon.

CASE summer camp information.

Check out this event on May 7th at Anthis-Brennan Sports Complex.