The Grand View 3&4 grade basketball teams won their games last night in the Woodall Tournament. Girls 10-6, boys 12-8. They play in the finals next Tuesday at 6:00 and 6:30.
Winners of the Red Ribbon Week poster contest: 1st-Keyla Barraza-5th grade $25 2nd-Vivian Browfield- 5th grade $15 3rd-Kaleb Harris-5th grade $10 Thank you for PTO's support of Red Ribbon Week prizes.
Thank you for a successful Lights On afterschool activity last week. #LightsOnAfterschool
Congratulations to the Cherokee Bowl winners. Sixth through eighth grade winners: Grace Thomas, Lucas Asbill, Heston Reed, Natalie Peters. First through second grader winners: Winnie Asbill, Chase Cook, Gabby Green, Hunter Thomas. Other competitors: 1- 2 grades: E.J. Peters, Maxon Leach, Luke Smith, Tydyn Allen. 3-5 grades: Skye Rodwell, Ryan Altaffer, Major Leach, Kyleigh Green, Tavery Martin, Henley Green, Taylee Allen, Lucy Johnson. 6-8th grades: Maggie Rhodes, Megan Cook, Meyah Drywater, Stella Smith.
The 3rd & 4th grade and 5th & 6th grade basketball teams opened their basketball season at Colcord yesterday. The 3rd & 4th grade girls came away with a win and the 3rd & 4th boys lost a close game. The 5th & 6th grade games were both competitive but Grand View came up short against some very good competition.
Grand View Parents; As Halloween is next Tuesday, please follow these procedures to help us make the day fun and safe for our students. Students may wear costumes that are school appropriate - no gore, scary masks, or weapons/ accessories that could hurt someone or break. Halloween party snacks must be store bought and individually wrapped. Some examples are the following: Granola Bars Chips Packages of cheese or peanut butter crackers Individual ready to eat popcorn bags String Cheese Applesauce pouches Thank you for your cooperation.
Keys basketball tournament bracket has been released for the 5th-6th grade teams. Games begin on Monday, November 6th.
Woodall Tournament bracket released for the 3rd-4th grade basketball teams. Games begin on Wednesday, November 1st.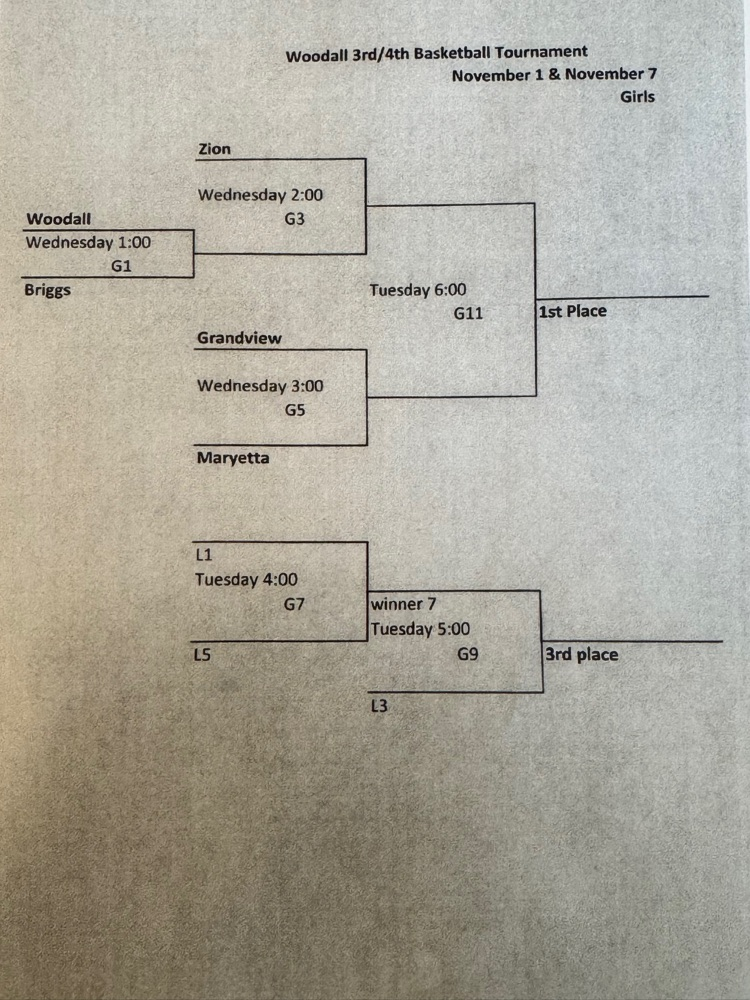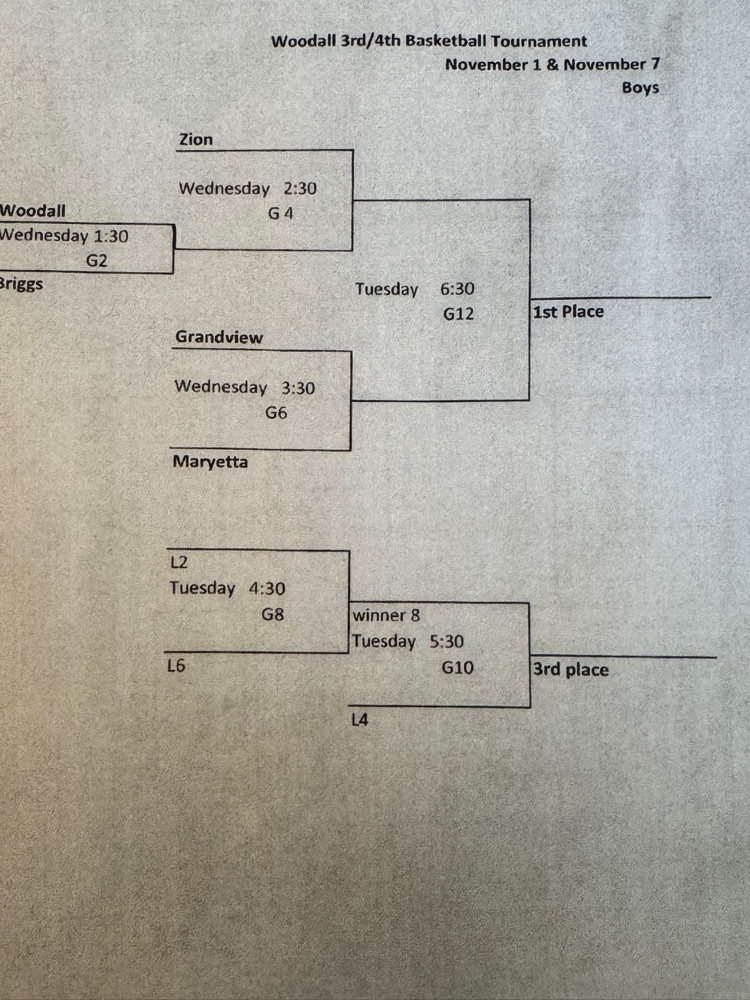 Reminders: 1. Book Fair starts Monday, October 23rd and goes all week. 2. Fall Festival is Tuesday, October 24th from 5:30 to 7:30. 3. Red Ribbon week starts Wednesday and ends on October 31st. Visit the following link for all of the dress up days and activities.
https://www.grandviewchargers.org/article/1291661
4. On Wednesday, Nov. 1st, Grand View School is hosting an American Red Cross blood drive from 1:00 p.m. until 7:00 p.m. in the cafeteria. To schedule an appointment to donate, you can call 1-800-RED CROSS, or log in at RedCrossBlood.org, or call the school and ask for the Health Aide, Whitney Scott.
On Wednesday, Nov. 1st, Grand View School is hosting an American Red Cross blood drive from 1:00 p.m. until 7:00 p.m. in the cafeteria. To schedule an appointment to donate, you can call 1-800-RED CROSS, or log in at RedCrossBlood.org, or call the school and ask for the Health Aide, Whitney Scott.
Vote for Grand View artists! Grand View middle school art students are entered in the Keep Oklahoma Beautiful Upcycled Art Competition. For the last month, four classes have worked tirelessly to create art exclusively out of trash, while learning about environmental impact and solutions for waste. They are now entered in a state-wide competition and they need your votes to help them win! The upcycled art with the most votes makes it into the finalists. You can vote for your favorite Grand View art entry using any internet-accessible device using the link below. You can vote once from each device every day. Voting closes on Friday. It only takes two clicks to vote and is totally free! Thank you for helping our art students and please share the message. Go Chargers!
https://www.surveymonkey.com/r/BDVHSFR
Parents, if you would like to donate items to your child's basket for the PTO Fall Festival, please send the items to the teacher by Oct. 18th. Thank you for your support.
ORES football playoff bracket...Grand View vs. South Rock Creek, @ Rocky Mountain, Tuesday, October 17th at 6:00 pm.
Softball and football pictures have been rescheduled for Tuesday, October 17th, due to this morning's weather.
Reminders: 1. Picture day is tomorrow, Friday, October 12th. Eighth grade pictures will be in December. 2. There is no after school program Wednesday, October 18th. Fall break begins Thursday & Friday, October 19-20. 3. PTO Fall Festival and Silent Basket Auction will be held October 24, 2023 5:30pm-7:30pm in the Grand View Gym. There will be concession, games and other activities. Hope to see you and your family for an evening of fun.
Parents of Grand View Students; Reminder - when checking out students from school, please arrive at the office no later than 2:45 which gives the office staff time to locate and check out students. If you are later than 2:45, you will need to wait in the parent pickup line and pick up your student when school is dismissed. In addition, all after school changes need to be called in before 2:30. Thank you for helping us keep students safe.
Grand View School will be conducting an anonymous survey of 3-8 Grade students to gather student perceptions of the climate within our school. IF YOU OBJECT to your child's participation in this activity, please complete and submit this form by Thursday October 12, 2023.
https://forms.gle/1LTv9Bs4UfP8sWgC9
IF YOU CONSENT TO THE SURVEY, do not submit the form, we will assume your child has permission to participate
Fall Festival
Reminders: 1. Pink Out Day-Thursday, October 5th. Wear pink to school in support of breast cancer awareness. There will also be a Pink Out at the football game that evening. 2. No afterschool program Friday, October 6th. 3. No school Monday, October 9th. 4. PTO meeting with fall festival planning to be held on Wednesday October 11th at 5:30 in the GV cafeteria.