Last week we interviewed the two new 3rd grade teachers, Mrs. Spears and Mrs. Colburn. They both graduated from Northeastern State University. This is both teachers first year teaching. Mrs. Colburn grew up here in Tahlequah and Mrs. Spears said she grew up in a small town called McCurtain.
We asked them why they wanted to teach at Grand View. Mrs. Spears said, "I've just heard really good things about it". Mrs. Colburn replied, "two of my former teachers actually worked here and one of them brought me out here to do the reading labs, that's how I got started."
What made you get into the teaching field? Mrs. Spears replied, "It was just kinda something I just fell into, it wasn't really planned." Mrs. Colburn responded, "I didn't decide until I was a sophomore in college, and I actually started to volunteer for a scholarship down here, and that's what got me." We asked them who inspired them to start teaching Mrs. Spears mentioned Dr. Tobi Thompson from Northeastern State University. Mrs. Colburn replied, Mrs. Brewer, former third grade teacher here at Grand View, inspired her. What are your goals for this year? Mrs. Spears expressed, "I wanted to build a really good relationship with her students." Mrs. Colburn articulated, "I just want to build them up from where they were last year." We are excited to see what they do this year with their classes.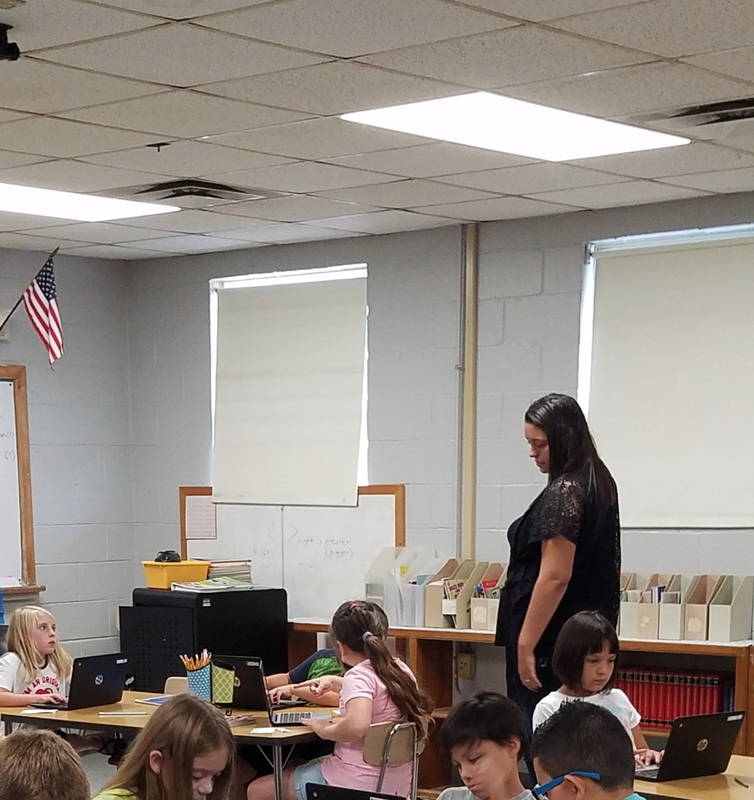 Mrs. Colburn checking to see if students are on task.